"A very strong system"
TSBS - Three Strong Bet Selections System
for All Even Bets
by Izak Matatya
"generates 10,000 units for 1000 shoes
in both flat bet mode and in aggressive mode"

The Super Promotion of 95% discount on all systems ended April 30. Based on popular demand I am extending this promotion until the end of May 2023 and am adding a new system: today's TSBS - Three Strong Bet Selections System for All Even Bets to be bundled within the same super promotion of 95% discount.
As the name implies this new system uses three very strong bet selections and combines them by betting on all three simultaneously.
It is for all even bets.
Each bet selection used separately has a flat bet advantage of 100 to 368 units. Combining the three gives you already a 673 unit flat bet advantage. This means if you use the system in its simplest form betting 1 unit each time and on each bet selection you will end up with exactly 673 units profit for 1000 shoes.
This may be not much, but with flat bets you can bet as high as the table's maximum. So with only $100 chips, this amounts to a profit of $67,300.
Yes, the system has many options and at least 2 versions, the first version consists of flat bets only and the second version a progressive one.
The flat bet version has two options in itself, the first one being the simple one we mentioned, betting 1 unit for each bet selection and the second option uses different values for each bet selection.
For instance if one bets 7 units flat for the first bet selection and 11 units for the second bet selection and 19 units for the third bet selection the profits for 1000 shoes rise to 10,000 units, averaging 10 units per shoe in Baccarat.
Those values are parametric and you can experiment with them and because of the flat bet advantage on each bet selection, each different value will give you a very profitable chart.
Here's in fact the performance chart of this flat betting version: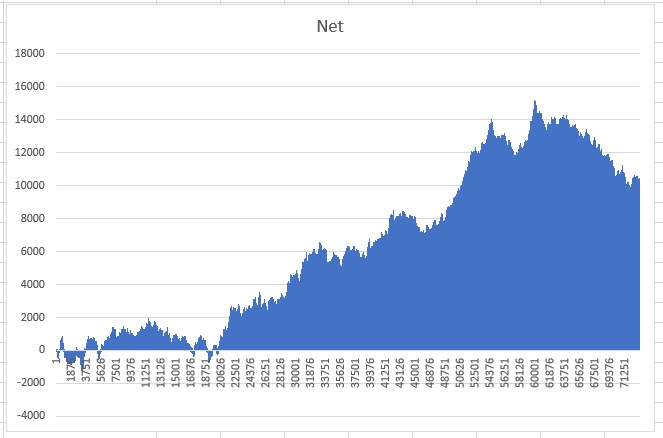 And the 19 units doesn't mean you have to place an $190 bet for $10 units. You can still have your units size just $1 and bet $19 for that flat bet. Thus by placing $7, $11, and $19 bets you will make $10,000 !!
The second version of TSBS is a progressive one. The term progressive may sound scarier. However, it requires only a session buy in of 25 chips only.
And the drawdown is tremendously reduced to only 19 units versus the 200 unit drawdown of the flat betting version.
The progressive version is a bit more complex but very playable. It takes some practice to get the hang of it, but not more than a couple of hours.
There are numerous examples, which will make the rules crystal clear.
Profits are very consistent. You get a very smoothly rising performance chart: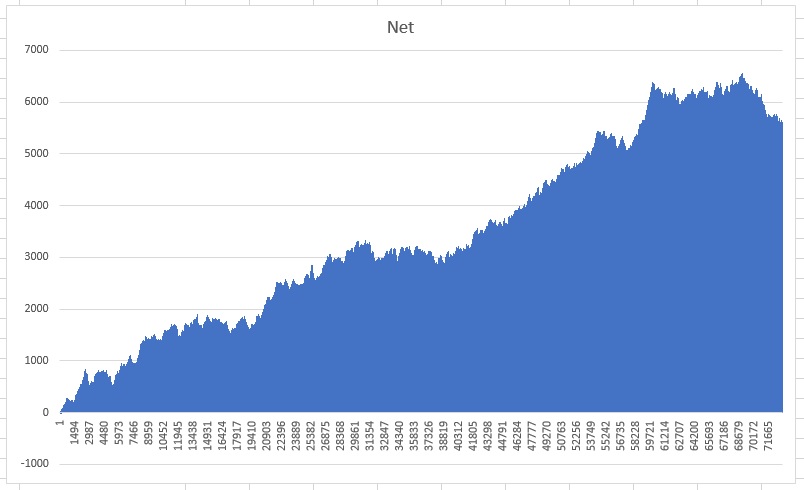 The very tiny peaks are some sessions that give up the 25 chips and move on, as the more you use the system the more you profit.
Thus you can use it totally indefinitely and you will be on the positive side at all times.
This version can also generate more than 10,000 units for 1000 shoes, but then it will require a larger buy-in for the session, such as 250 units. That is why, I have optimized it to be playable by all with the 25 unit buy in and this will generate +5,485 units for 1000 shoes.
Otherwise, if you have the budget, by all means you can use it with larger denominations or larger buy-in.
In any event the 25 units buy in is a parameter in the third simulation provided. You can change its value and get immediate resulting figures and a performance chart for 1000 Zumma shoes.
The first two simulations provided are for the flat bet options: the 1 unit bets and the varied for each bet selection. The third simulation is for the progressive version. The bet selections are identical but the methods are quite different.
The system comes with 18 easy-to-read pages with lost of examples illustrating all versions and options you can use.
One bets on every single bet after the very first decision of the shoe.
TSBS goes for $5,000. Generating 10 units average per shoe this will pay itself off in 50 shoes with $10 bets or in 10 days of using the system. After that all profits are yours to keep
At 95% discount you will have it for $250, just a couple of hours to pay itself off.
So until the end of May, all systems are at 95% off, when you use the discount code LTW95OFF at the end of the checkout panel using the site: https://shop.letstalkwinning.com/
And those sales are final and cannot be refunded.
Click here to purchase the system. An automatic download link will open for you.
Please do not forget to specify your email during your purchase, so your download link can be sent to you.
Thank you!
Izak Matatya
www.letstalkwinning.com
https://shop.letstalkwinning.com/
www.izakmatatya-digitalart.com

Emails: webmaster@letstalkwinning.com, matatya.izak@gmail.com (please do no longer use izak.matatya@videotron.ca)
Systems Gallery: http://www.letstalkwinning.com/gallery.htm
Newsletter: http://www.letstalkwinning.com/winalert.htm
Newsletter Archive: http://www.letstalkwinning.com/archive.htm
Recommended On-Line Casinos: http://www.letstalkwinning.com/bestonline.htm
Discussion Forum: http://www.letstalkwinning.com/forum/
Izak Matatya's new contemporary digital art online store: https://www.izakmatatya-digitalart.com, www.izakmatatya.com
Izak's new NFT site: https://crypto.com/nft/marketplace?isCurated=false&search=izak+matatya
---
---
---
Use the TSBS system at Windows Casino
---