"Another Infallible Roulette System"

IDDSD - Infallible Double Dozen Single Dozen Roulette System
"averages 1 unit every 2 spins"

by Izak Matatya
Continuing the trend of the infallible roulette systems, here's another addition to the series: the new system IDDSD - Infallible Double Dozen Single Dozen Roulette System.
It has absolutely no abandoned runs and generates 1 unit profit every 2 spins on average, which is tremendous for the so-called non beatable roulette game, having a house edge of 5.26% on a double zero American wheel.
And IDDSD works this way on a 00 wheel and performs even better on a single 0 roulette wheel.
As the name implies, the system bets on dozens and columns at times on a double dozen, that is, on two dozens at the same time and at times on a single dozen depending on its very smart bet selection.
And since the bets are on dozens and columns, this system will work for roulette only, unless you use it for Sic-Bo on numbers 9,10,11,12 which has the same effect as a double dozen and pays 3 to 2.
The switching between DD (double dozen) and SD (single dozen) is simply performed on placing the player on the winning side automatically.
We stay in the proper mode as long as we keep winning.
It's an up-as-you-win system. Therefore the more we win, the higher our bets go.
At certain times, we are completely in flat bet mode and do not need to raise our bets for a long time.
Losses are controlled by betting the minimum during those times.
Every run is closed when it meets the right criteria and the right criteria always occurs. That makes the system infallible.
In fact, following is the performance chart of the system:
Always steadily increasing profits.
By the end of the 15,000 Zumma spins, the system generates 7,843 units, more than a unit every 2 spins on average.
And it's not a grind system at all, where one wins only one unit at the end of the run.
Profits per run can vary between 3 and 11 units and every run is in profit.
The system will work on 1-1000 ranges, which most roulette tables are.
A total bankroll of 2000 units will be ample to use the system indefinitely and be always in profit.
A milder version of the system generates 4178 units and requires 4 times less bankroll: 500 units and the performance chart remains exactly in the same proportion: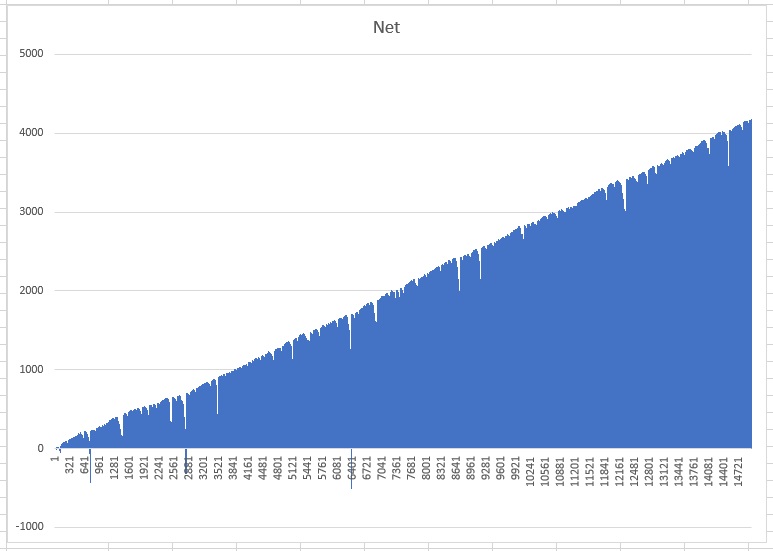 and is equally infallible.
Both versions are documented and provided to you.
The system comes with a full simulation of 15,000 Zumma spins and has 3 parameters you can experiment with associated with the size of the bets in different areas and session bankrolls, although I believe the ones I provide are optimized to generate the maximum profits that can be made with this system.
The system comes with 18 easy-to-read pages with lost of examples showing all kinds of scenarios and it won't take you more than an hour to master the system and be ready to use it any time.
There is absolutely no tracking. You can start playing at any time at any table, regardless of any previous outcome.
IDDSD's price is $6000. With 1 unit generated every two spins and playing with $10 bets, you can win this amount in 1200 spins or in about 12 day's play if you play 100 spins a day in about 5 hours.
I want to make the system affordable to everyone, though, and am offering a huge 95% discount if you purchase the system until end of April 2023. Not an April fool!! You can have the system for $300 only until April 30, midnight ET.
The system has a money back guarantee totally unconditionally, should you return it within 30 days, no questions asked, no strings attached. Your satisfaction is fully guaranteed.
Click here to purchase the system. An automatic download link will open for you.
Please do not forget to specify your email during your purchase, so your download link can be sent to you.
Thank you!
Izak Matatya
www.letstalkwinning.com
https://shop.letstalkwinning.com/
www.izakmatatya-digitalart.com

Emails: webmaster@letstalkwinning.com, matatya.izak@gmail.com (please do no longer use izak.matatya@videotron.ca)
Systems Gallery: http://www.letstalkwinning.com/gallery.htm
Newsletter: http://www.letstalkwinning.com/winalert.htm
Newsletter Archive: http://www.letstalkwinning.com/archive.htm
Recommended On-Line Casinos: http://www.letstalkwinning.com/bestonline.htm
Discussion Forum: http://www.letstalkwinning.com/forum/
Izak Matatya's new contemporary digital art online store: https://www.izakmatatya-digitalart.com, www.izakmatatya.com
Izak's new NFT site: https://crypto.com/nft/marketplace?isCurated=false&search=izak+matatya
---
---
---
Use the IDDSD system at Windows Casino
---